Dude's Quarter Horses
Keeping the Old Ties Alive for Future Generations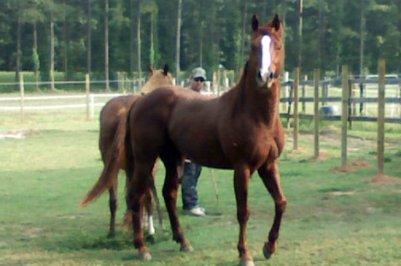 Jackie's Smokin' Dude
is out of
Mr. Show Dude
and
Zan's Jackie Smoke
. Bloodlines on his AQHA paper's include stallion Blondy's Dude, Zan Parr Bar, Two Eyed Jack,Three Bars, Boston Mac and Wimpy.Go to the links in blue to see full pedigrees. Both are "Bulldog" type Quarter horses and have been shown successfully in pleasure and contest events. Smokin' is under saddle and doing well. We had his first set of foals on the ground in the of Spring 2009. He is now also riding for the lord. We lost him in 2010.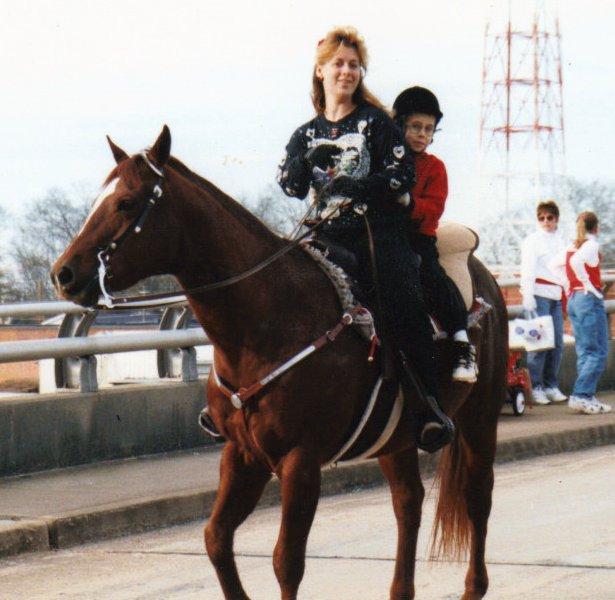 Mr. Show Dude
joined our family when he was already 15 years old. The grandson of AQHA Hall of Fame member
Blondy's Dude
, he was a solid Foundation Quarter Horse with a heart of gold. Versatile, like his ancestors, he performed in everything from western pleasure to barrels and parades. Jodie and 6 year old Dustin are pictured here with Dude in the Newnan Christmas Parade many years ago. At age 19 he still competed with the West Georgia Pleasure Horse Association. He placed first in aged stallions halter and third in open halter. He was ridden in lesson and sired two foals at the age of 26. A perfect gentleman with an attitude and build that can be seen unfailingly in his offspring, he was the master of the entire farm until the day he passed away in 2000. The last person to ride him was 14 year old Brigette, when she rode him back up to his pasture after having his feet trimmed. She rode bareback, barefoot, and the 26 year old, 1100 lb stallion, was in a halter and a lead rope for reins.
Zan's Jackie Smoke
is out of Zan Parr Bar. She has been shown in Horsemanship, Trail, Hunter over fences, Drill teams, Parades, Barrels , Poles, and is used in lessons. She is currently being trained for reining, working ranch horse, and trail. She also completed a natural horsemanship level 2 Parelli assesment.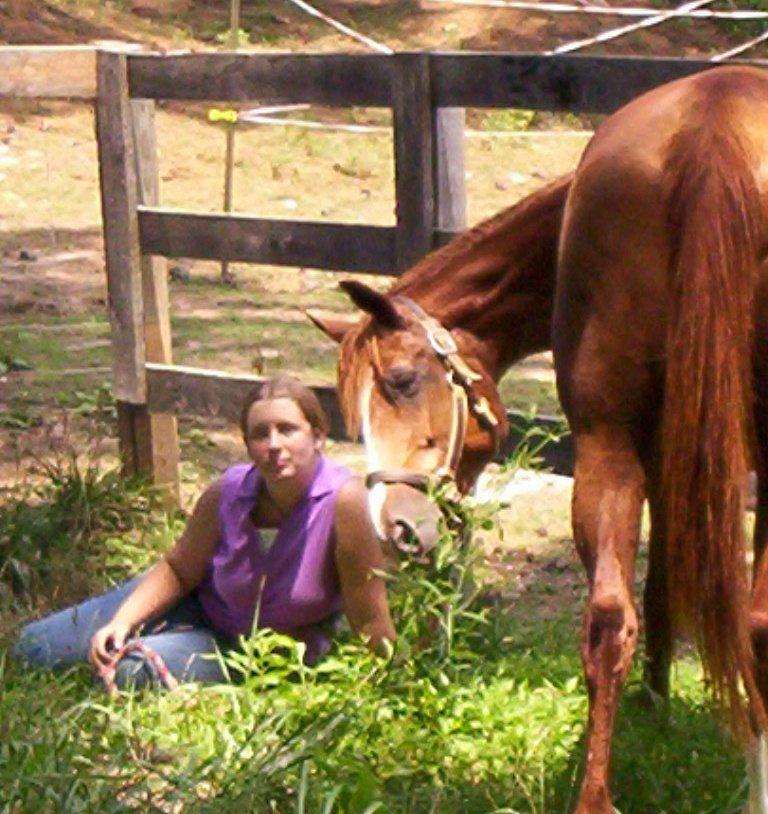 Dixie, or
Salty Specialty
, is a 21 yr old AQHA mare. Dixie has her ROM in western pleasure. She's a sweet old retired show/lesson horse. She rides for the lord now. We retired her in 2010.